Adventure Theatre MTC takes the story of Aladdin back to its roots in Aladdin and The Wonderful Lamp, playing now through May 21.
If you know and love the Disney version of Aladdin, you'll recognize many elements of this story - but you'll also find many more twists and turns that bring the story back to its roots in the Book of One Thousand and One Nights. With an eye toward celebrating cultures this season, Adventure Theatre MTC sought the input of several cultural consultants from Iran, India, Morocco, and Egypt as they worked on this production, which is also supported by the Weissberg Foundation's Fund for Diversity in Theatre. 
"There is a lot of confusion and prejudice surrounding people's ideas of the Middle East, especially in today's world," said Artistic Director Michael Bobbitt. "This is a fantastic opportunity for Adventure Theatre to not only celebrate the culture and the people of the Middle East, but also to assist with the next generation's understanding and celebration of our differences."
Aladdin is a boy who loves adventure, and he finds a fellow adventurer in Princess Badroulbadour (Adora for short). When an evil magician locks Aladdin in the Cave of Wonder for disobeying his orders, Aladdin rubs and old lamp and meets the Genie - and the story takes one wild turn after another as Aladdin seeks to rescue Adora and clear his name.
I brought my family to the show, and all of us walked away wanting more. The costumes are bright and beautiful, and the Genie's jokes had all of us laughing. Both my second grader and preschooler loved hearing a more traditional version of the story, and they both loved the Genie best of all.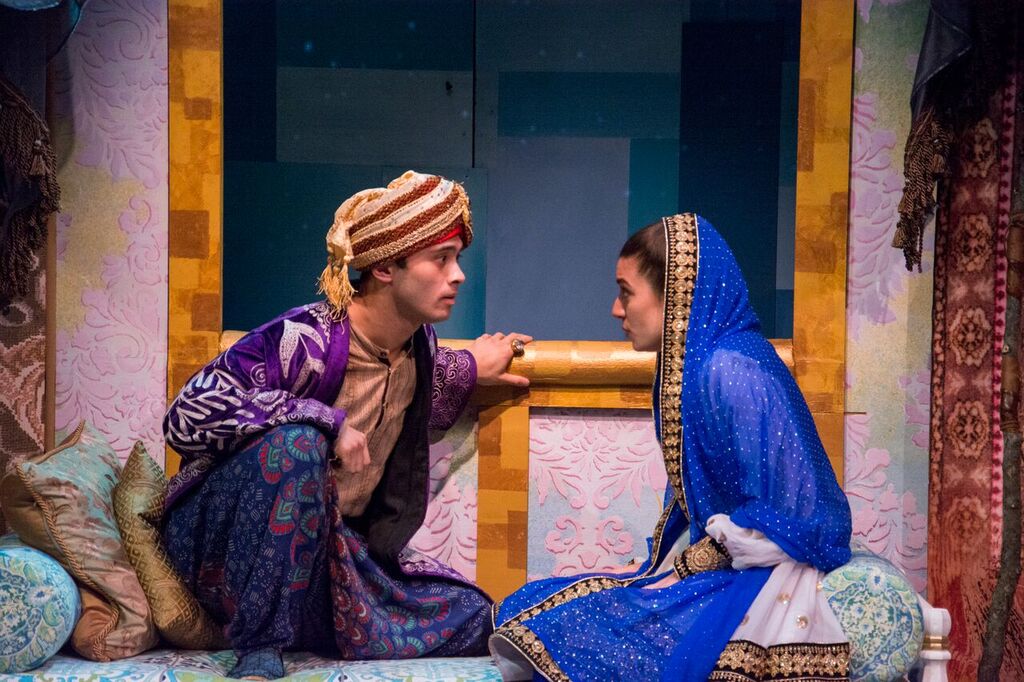 Aladdin and The Wonderful Lamp is recommended for all ages and has a run time of about one hour. The theater does get quite dark in a few parts (and that did frighten some of the younger children in the audience), but the show is one that's appropriate for all ages. As with all shows at Adventure Theatre, the actors make use of the two aisles throughout the show - and during this show they actually come up into the seating area during one song - so it's best to plan to stay in your seat for the full show.
All performances will take place at Adventure Theatre MTC in historic Glen Echo Park. The theater is about a ten minute walk from the parking lot (a bit longer if you are accompanied by a leisurely little walker), so be sure to build in time for your walk! Tickets are $19.50 each (children under the age of 1 are free) and can be purchased online or by calling 301-634-2270.   
Special Opportunities:
ASL interpreted performance: April 22 at 2 pm
Sensory/Autism friendly performance: May 13 at 2 pm
Mother's Day performances: May 14 at 11 am and 2 pm
I received complimentary tickets in exchange for my honest review.