We're always looking to strike a balance between sweet treats and healthy snacks in our family. We think we've nailed that balance with some recent recipe discoveries and in these instances, the perfect apple is the must-have ingredient.
My family enjoys all of the apple snacks and apple treats and any baked good involving an apple, and we also enjoy just grabbing one for a snack as we head out the door or slicing one up for a healthy snack any time of day.
We have also enjoyed the fall tradition of apple-picking locally. There's just something about apple season.
This season though, our kids are involved in several activities and life has gone back to its bustling normal pace and picking our own apples wasn't in the cards. Fortunately, I found SnapDragon Apples in the produce section at Wegman's and it turned out to be the fall discovery that our taste buds needed. I grabbed two bags with my regular grocery haul and from the first bite, I knew they were going to be enjoyed many ways — from kid-friendly decadent recipes to a simple crunch.
---
---
Gluten-Free Apple Walnut Cake With Cinnamon Cream Cheese Frosting
Lately we are living at the pace where enjoying an apple means grabbing it on the way out the door to enjoy on the sidelines or post-game.
Every once in a while we manage to slow down enough to have fun baking in the kitchen — apple crisps, apple muffins, apple pie — and then enjoying the fruits of our hard work! After picking up the SnapDragon apples at the store, wanting to make the most of my produce pick I went online to the SnapDragon Apples website to find out about what makes them different from other apples and how best to cook with and them.
I already knew they were delicious because I had enjoyed one right after my grocery trip — they were just the right amount of sweet with almost a fall spice taste to them.
As I scrolled through their recipe ideas trying to decide what to bake with my bounty I came upon the SnapDragonApple.com recipe for Apple Walnut Cake with Cinnamon Cream Cheese Frosting. I took a peek at the ingredients and wondered if I could make a gluten-free version of this so that I too could enjoy the SnapDragon goodness as a dessert treat along with my family.

I got to work setting out my ingredients and using my favorite measure-for-measure gluten-free flour as a substitute in the Apple Walnut Cake with Cinnamon Cream Cheese Frosting recipe I found on the SnapDragon website. I was generous with my inclusion of the coarsely chopped SnapDragon apples (I used 3-4 apples). One of my favorite kitchen assistants even joined in on the fun when he got wind of what was cooking in the kitchen.
This recipe came together so quickly and my entire house smelled like delicious baking apples!
The only other adjustment I ended up making to the original cake recipe was that I used 8 inch pans instead of 9 inch since that is what I had available.
Guess what I did with the small amount of extra batter I had as a result? I put it in a donut pan and made SnapDragon Apple Walnut Cake Donuts.
We love homemade baked donuts, so I was curious if the recipe would translate well into donuts and ohmygoodness it sure did. This cake batter recipe is going into my baking rotation.
The apples were the star of the show for sure and the cake and the donuts taste like a little slice of fall. The frosting recipe was easy to execute and it was delicious ... but the apples and spices stole the show.

Tip: If you don't have an apple peeler and slicer similar to the one pictured above, I highly recommend it. It not only makes this apple recipe easier to execute but it has meant my children eat twice as many fresh apples because they can easily peel and essentially spiralize their apples, making them more fun to enjoy. Making healthier, delicious SnapDragon apples even easier to enjoy? Yes, please!
---
Apple Wagon Wheels
As we all know, parenting life gets busy and we can't always be scratch baking. But as parents we can still find fun ways for our family to enjoy snacking on healthy apples. On the SnapDragon site, my son saw the Apple Wagon Wheel recipe made from SnapDragon apples and he couldn't wait to try them.
We followed the steps in the Apple Wagon Wheel recipe we found on the SnapDragon website, and have served variations of this several times in recent days — as a weeknight dessert, an after-school snack and even for breakfast.
We used SnapDragon apples, crunchy peanut butter (this is totally a preference, any peanut butter would pair well with these apples), walnuts, coconut flakes, dried cranberries, raisins, mini chocolate chips and honey.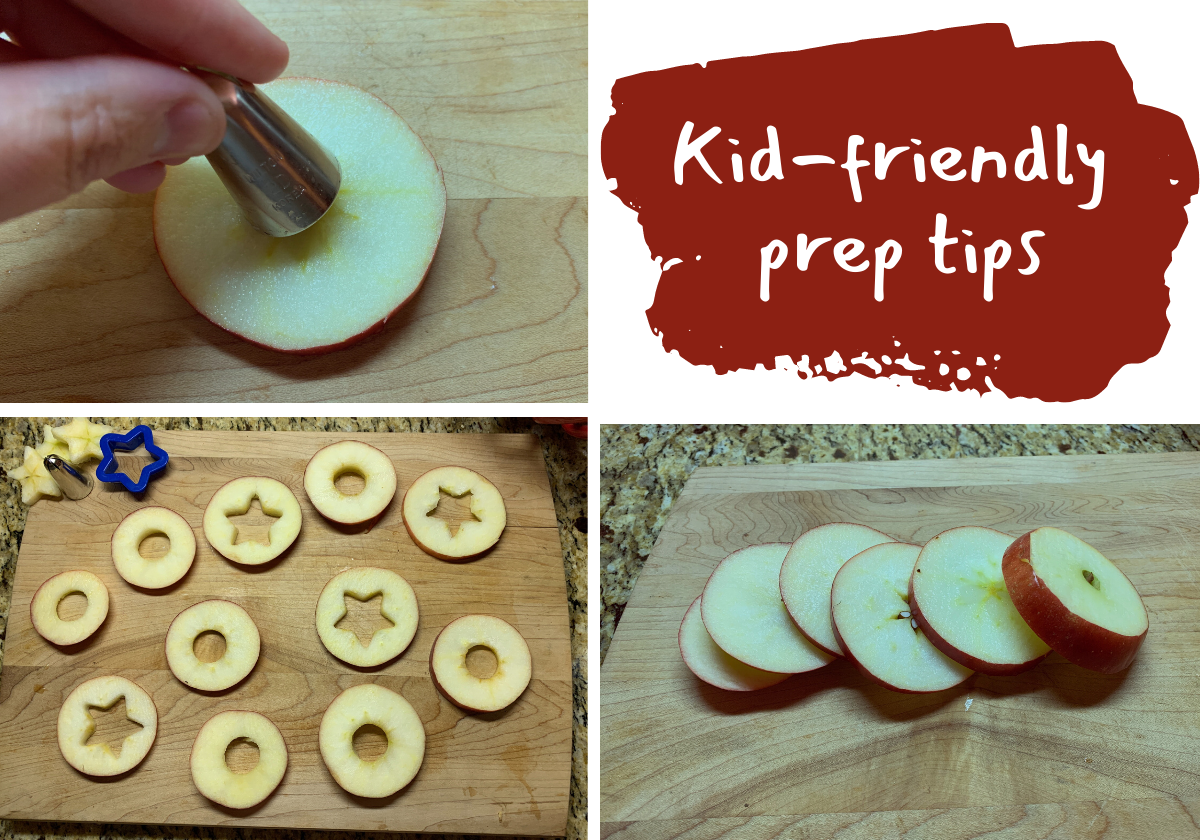 Kid-friendly tips on preparing and enjoying the Apple Wagon Wheel snacks:
Use a small cookie cutter or a pastry tip to cut the center out of apple slices. It's best to use a small size so you don't lose much of your delicious apple. Using these methods means your kids can get more involved since neither or very sharp and so are safer for smaller fingers.
You can make this a pre-made or a DIY snack. I turned this into part snack and part activity by giving my kids a selection of potential toppings to pick fro for their Apple Wagon Wheels. I love getting my kids involved in the kitchen and this is an easy, relatively low-mess way to do that. There's just something about a make-your-own food option that brings an extra element of fun!
If you happen to have leftover frosting from your Apple Walnut Cake, I highly suggest adding that as a super delicious topping option. A sweet cream cheese would also make a good substitute.
Nut butter alternatives would work well in this recipe, too if nuts are something your family needs to avoid! The sweet, crunchy apples are the main event so you can easily swap out your spreads or toppings.
You can use a piping bag or any similar bag. With the corner tip cut off, fill it with peanut butter (or the topping of your preference) and pipe it onto the SnapDragon apple for a less messy option.
This basic recipe could also evolve into a fun bread-less sandwich as a meal or as a snack. This was one of the first ways my son "styled" his SnapDragon apple as he packed himself apple peanut butter sandwiches to enjoy on an on-the-go weekend day.
| | | |
| --- | --- | --- |
| | | |
---
SnapDragon apple and apple slices
Finally — and most easily — you can enjoy these apples all on their own. We've thrown them in our snack bag for sports, our lunches for a crunchy side or sliced them up and enjoyed them at home. They are a delicious, kid-friendly apple variety that provide healthier energy from natural sugars and a boost of nutrition. They can be baked into a number of delicious recipes (for fall or for ANY time of year) or they can be served all on their own and enjoyed for their sweet, crunchy goodness.

---
You can find SnapDragon apples for your family in select Wegmans, ShopRite, Tops, Safeway/ACME, Whole Foods, Sprouts, Fresh Direct, Price Chopper and The Fresh Market and Aldi stores. + Visit SnapDragon Apples to find apples near you. I was provided compensation in order shop for and review this apple variety with you but all opinions are my own. We enjoy being able to discover tasty, kid-friendly products and recipes and the opportunity to share them with you!