Eight-year-old Maya Zussman and her sister, ten-year-old Zoe Zussman, each started their very own business over the past year, and these girls are crushing it! These girls are each full of personality, have tons of talent, are determined to succeed, and are encouraged to pursue their passion by their mom, Jenn Zussman.
Jenn is, herself, an entrepreneur, running a very successful Rodan + Fields business that allowed her to give up her corporate job and have more flexibility and time to spend with her family, something she was especially grateful for when the pandemic forced her girls home for virtual schooling for the year. While Maya and Zoe knew she had her own business they didn't really understand what she did until this past year when they saw that she could earn a living and have the ability to be home and really present with them.
Jenn explained a sense of mortality that came over her when she became a mom. A realization that she won't be here forever and a desire to develop them into strong, resourceful women who will be able to care for themselves. This resonated with me strongly – I have felt the same strong urgency to protect and to prepare, since having my kids.
Jenn encourages and inspires her daughters to challenge themselves and go for their dreams. "The biggest lesson I've had for the girls has been that they are each uniquely talented and are not competing with each other with their businesses or in life. When you cheer each other on it makes you both successful. I tell them, you're not competing with each other, you're each in your own race!," said Jenn.
---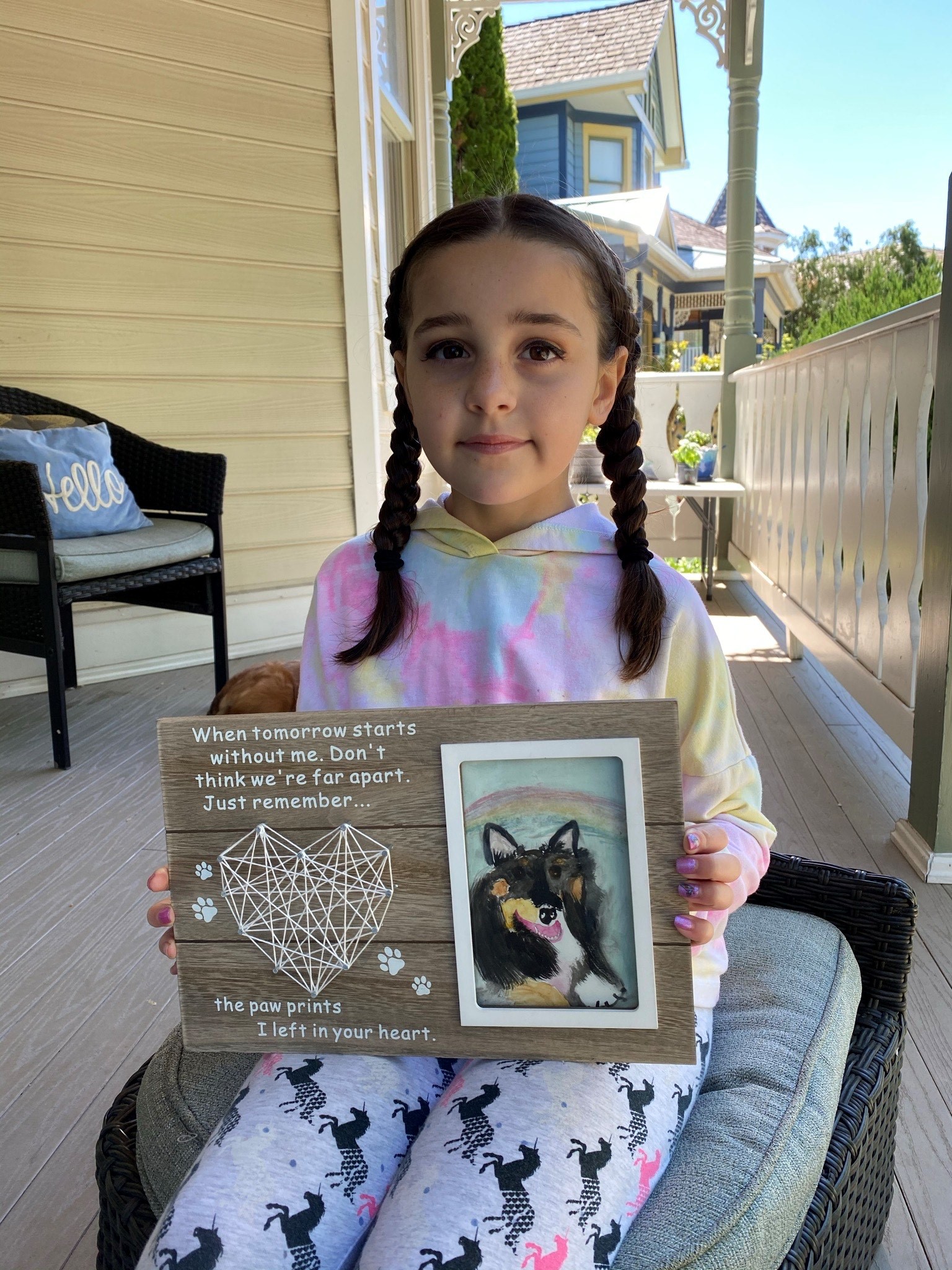 Maya Zussman (8) is a second grader at Rachel Carson Elementary School. She has been into drawing and art her whole life. When the pandemic hit, and she started spending so much more time at home, Maya spent a lot of that time drawing to relax. At first she would watch videos online about how to draw certain things, then she learned to draw cartoonish looking animals, and as she practiced and drew more and more, she found that she was able to draw more realistic figures and compositions.
Maya's mom, Jenn Zussman, noted that "Maya just started drawing a lot, and I saw some of her art, and was really surprised at how good it was! She has a natural gift! I just keep encouraging her to keep going and to do what she loves." Maya even told me, "Mom always encourages us to find something we love to do and turn it into a business. Obviously for me, art is what I love to do."
With that in mind, Maya started her business Pawsitive Pets! Maya loves animals, and loves to draw all kinds of animals, from dogs and cats, to dinosaurs and unicorns and more. "I also really like to make people happy and spread positivity and happiness." One signature aspect of Maya's art is that she will often include a positive or encouraging saying somewhere on the drawing. Maya further spreads positivity by donating 50% of the money she earns for her artwork to charity. Usually she picks an animal related charity, and loves that she can give back and help the animals too.
Through Pawsitive Pets! Maya is commissioned by people wanting her to draw pictures for them, often of their pets. She has expanded to making custom note cards and stationary, too. Like all entrepreneurs, Maya remembers her first sale proudly. "My first customer was my grandpa! He bought a picture of a Sheltie," Maya beams.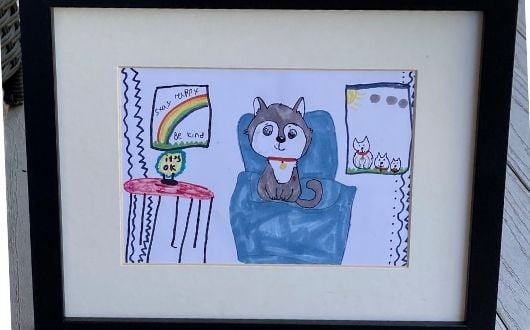 Maya has also teamed up with a local dog walker and day care business Fit Dog Adventures, owned by Flor Alvarez. Maya loves to help out with Flor's business, playing with the dogs while they are at doggie day care. Maya looks to Flor as a business advisor, as well. By helping out at Fit Dog Adventures, Maya has earned new clients for her own business, too. It's been a pawsitive experience for both of them!
Maya is now taking an art class and is exploring new techniques. She is enjoying alcohol ink painting, and loves to add a bit of glitter to her paintings.
For your own Pawsitive Pets! drawing, you can commission a piece through Maya's site.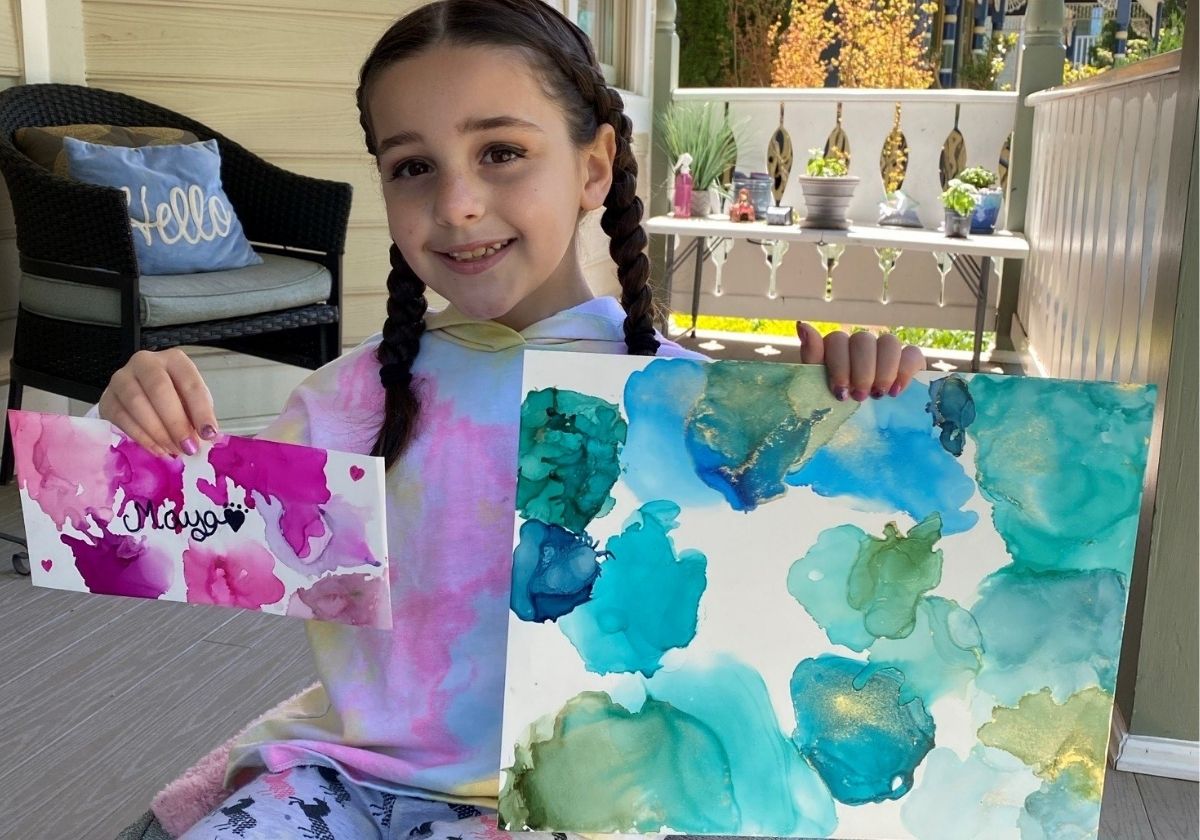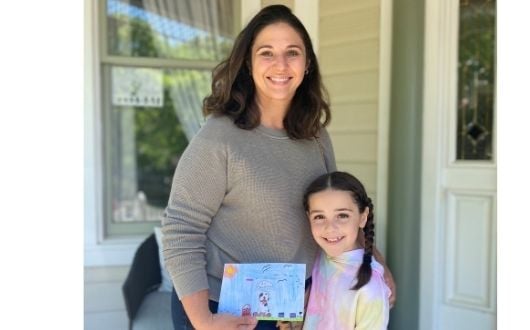 ---
Zoe's Frappuccino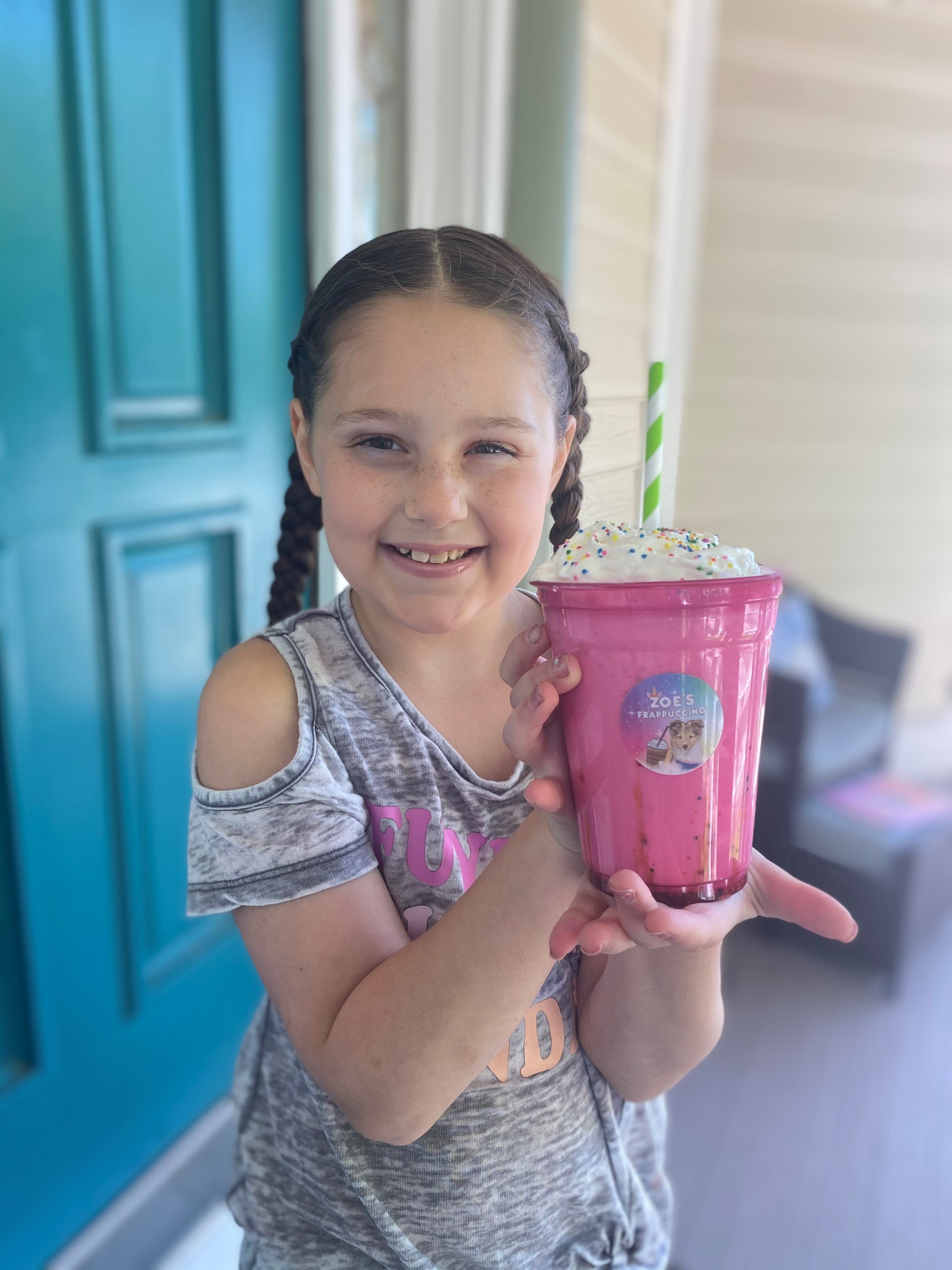 Zoe Zussman, age [10] loves cooking and is passionate about healthy eating. She tells me she missed going to Starbucks for Frappuccino's when the pandemic hit and decided that she would make her own delicious drinks at home. First, she started researching the ingredients of her favorite drinks online. Zoe shared that she was inspired by her sister Maya's business to start a business of her own. Soon, Zoe's Frappuccino was born!
Zoe started out by testing out various recipes in her kitchen. She was insistent in using only the best natural ingredients – she refuses to use syrups or artificial ingredients in her drinks. Once Zoe started trying out different recipes in the kitchen, her sister Maya became a valuable contributor to her business as primary taste tester. In exchange for serving this critical role, Zoe offered Maya free frapps for life! A sweet deal among sisters!
Once Zoe had developed a solid repertoire of recipes, she started taking orders - people would submit their orders through her mom, and Zoe would jump into action from there. From start to finish, Zoe runs the business. She shops for necessary ingredients with her dad, Elie Zussman, she makes all of the drinks and she even cleans up after she's completed her orders.
To date, Zoe has hosted two big pop-up events for her Zoe's Frappuccino business out of her front yard, too. Again supported by her family, Zoe's mom and sister would greet customers in the yard, collect their orders, process any online orders that had come through, and help Zoe prioritize the order in which to make her drinks.
"Sometimes it has been stressful. My biggest day was 51 drinks," said Zoe. "I want my product to be high quality, so sometimes you just have to start over again. One time, a tea bag exploded in a drink and I had to throw it away and start over. No one wants to drink tea leaf pieces." Zoe is frequently expanding her offerings. She now makes Vietnamese coffee and Thai iced tea, too!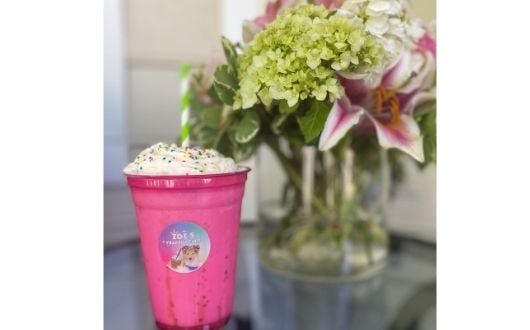 Zoe dreams of opening a storefront location for Zoe's Frappuccino when she gets out of high school. Zoe also loves to cook. Her favorite things to make are pesto cavatappi and avocado toast. Jenn Zussman shared with me, "Zoe has always been passionate about health eating for kids. She is really disappointed in offerings on kids menus and believes we should be giving kids more credit than that for eating a wide variety of healthy, whole foods. Zoe's Frappuccino's is the perfect business for Zoe. She makes her own specialty drinks with even better ingredients than the big name brands."
Zoe is hoping to host more pop up events soon, but has a busy summer planned, so for now she'll keep on cranking out high quality frappuccino and other drinks on demand. This is only the beginning for Zoe's Frappuccino though. Her mom has been teaching her not only the importance of paying for her own ingredients and supplies but also the importance of saving and of reinvesting money into her business. Zoe's got a vision of creating a line of merch – shirts, aprons, hats and more, all with the Zoe's Frappuccino logo she designed. I can tell you one thing for certain - my Vanilla Frappuccino from Zoe's Frappuccino was unbelievably good!
You can order your own specialty drink from Zoe's Frappuccino by contacting Zoe's mom, Jenn Zussman through Facebook messenger!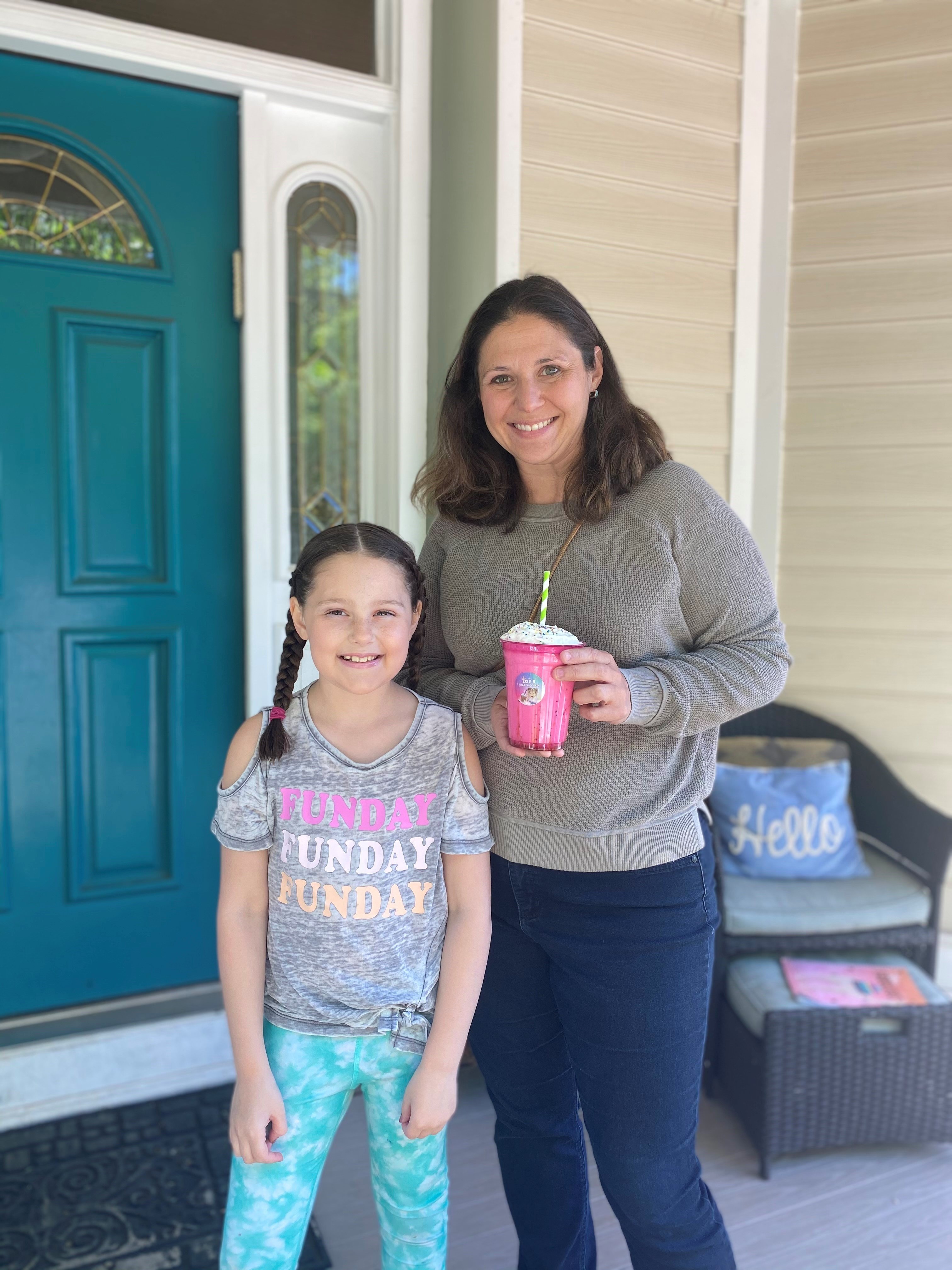 Have a kid who is interested in becoming an entrepreneur? Maya and Zoe Zussman are happy to share what they've learned along the way. The girls have already met with and advised another young entrepreneur who dreamed of opening a bakery. According to Zoe, the best advice she would give to anyone wanting to start a business is to "Just start, and don't be scared. it will turn into a big thing and you will be so happy!" Your budding entrepreneur can reach out to the Zussman sisters by contacting Jenn Zussman through Facebook messenger.