| | | |
| --- | --- | --- |
| | | |
Help Get Your Kids Outside!! Part 2
---
Uncle Milton National Geographic toys to for Nighttime Play!
Over the past several months, I have noticed a huge problem in my household...my almost 5-year old son is addicted to screens and electronics!! While I realize I am completely to blame for this phenomenon (I have gotten him every tech gadget out there that might help him play and learn his way into being ready to start Kindergarten this month, and I swear he knows how to use my iPad better than I do), it really freaks me out that when I say "Let's go play outside," he gives me a blank stare. Then asks if he can bring the iPad, handheld video game, etc. outside....Hmmm, ok, he totally does not get my point. So, when I was asked to review some Uncle Milton toys that just hit the market that are aimed at getting the kids outside and away from screens, I was all for it!!
Over the next few weeks, I will be sharing my reviews of several of these toys with you. If you have already played with any of these, I would love for you to add your comments as well!
This week I would like to share my thoughts on the Uncle Milton National Geographic High Sierra Eco-Explorer, the Expedition Sky Flare and the Expedition Shoe Lights.
The High Sierra Eco-Explorer is a great toy for outside exploration. The set includes a headlamp and a collection & observation jar. It also features a bug viewer, magnifier, soil sifter, recon tool for picking up whatever cool objects your child finds and the whole thing can be attached to your pants with an easy to use belt clip. The set transforms though, with the headlamp attaching to the collection and observation pieces to create a light for you to better see your specimens, as well as use as a searchlight! My son (who is almost 5) thinks the headlamp is awesome for his night adventures and journeys and loves using the collection jar to check out fireflies and other cool bugs during the day and at night. The High Sierra Eco-Explorer is available at
Amazon.com
and is designed for ages 5+.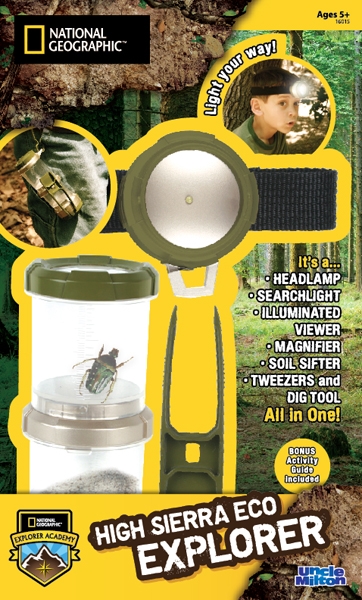 The Expedition Sky Flare lets you send out a signal at night, illuminating the sky as you slingshot the flare into the air. It was a little too much for my son to figure out on his own, but for an older kid, I think this would be a blast and is definitely much safer then letting your kid play with a flare gun if they are having a campout at night. From what I have seen, the flare also spins on its way down which seems like it would be really cool to see, I am excited to play with it more (after my son goes to bed) to see what tricks we can make it do. The Expedition Sky Flare is made for ages 8+ and adult assistance is recommended.
The Expedition Sky Flare is available at
Amazon.com
.
The Expedition Shoe Lights are super cool! What better way can you think of to take an awesome night hike adventure safely?! These shoes include both white LEDs to light your path as well as red LEDs for night view mode and attach to almost any shoe. The Shoe Lights are made for ages 5+.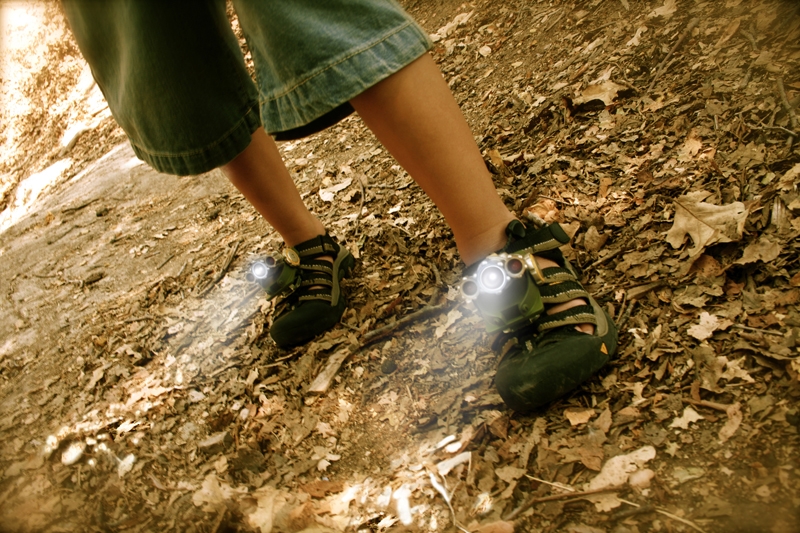 All of these fun toys are available for up to 40% off right now on
Amazon using this link!



Please note that I received many of these products free of charge in order to facilitate my honest review of how these toys worked.
Have your say